COSMETIC / SMILE DESIGN

TEETH WHITENING
There are several factors involved in teeth stains (or teeth discoloring). Food, drink, and smoking are the most common causes of teeth discoloration. Other reasons for staining may include medications, forgetting to brush, natural aging, or even genetics. Bleaching uses a strong oxidizing agent to lighten the teeth and is a relatively conservative and a highly effective way to brighten your smile. At M Dental Group, Drs. Paul Kim and Seung Min Jung will let you know if teeth whitening will be effective for you as artificial teeth, crowns, veneers, and dental fillings will not whiten.
By following post-operation instructions, patient can keep their teeth lighter than they were before. We also recommend [link] routine cleaning, following flossing and brushing teeth instructions, and occasional whitening touch-ups to help you whiter smile last longer.
Type of Teeth Whitening
M Dental Group offers both in-office and home bleaching treatments.
Home Whitening Tray (Bleaching Tray)
At M Dental Group, we create plastic tray (retainer) custom made to fit patient's teeth. Patient will be provided whitening gel and trays to be used at home. The Dentist whitening gel (whitening agents) provided is stronger than over-the-counter whitening products from stores. The Home Whitening set is used by placing whitening gel in the trays and then seating them over the teeth according to the instructions provided. The patient's teeth shades will become brighter when followed by instructions (instructions is different by whitening agent manufacturer), but not as instant and dramatically as the Zoom Whitening.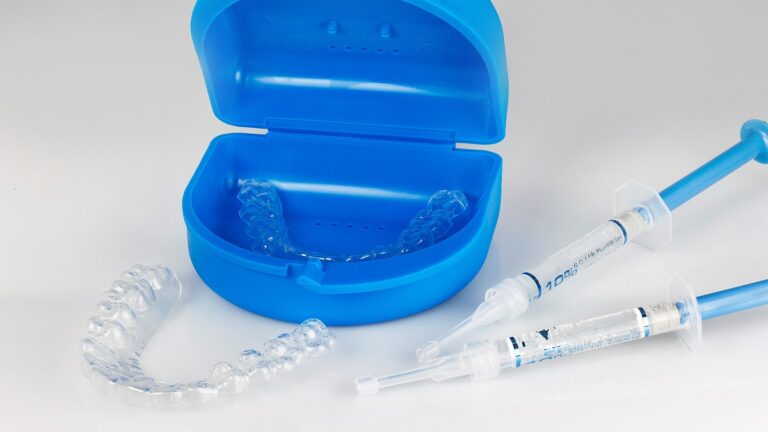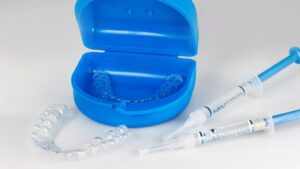 Zoom Whitening (in-office whitening procedure)
In-office whitening can give you more dramatic results than home whitening tray in shorter time. At M Dental Group, we use Philips zoom, which can get your teeth up to 8 shades whiter (actual results vary by patient). The dentist will prepare the patient's mouth for whitening, and apply a layer of advanced whitening gel. Then blue LED lamp will be used to accelerate the whitening process. Applying the gel and shining light procedure will be repeated three times. Then post-treatment gel will be applied to protect enamel and reduce sensitivity. Patient will also receive post-operation instructions and take-home whitening kit to extend the whitening effect.